About Kathleen Youngquist
Biography
Kathleen Youngquist was born in Hollywood, California, to her father, a Walt Disney animator, and her mother, a librarian. From an early age, she spent much of her time drawing, painting, weaving, and making pottery. She lives and works in Healdsburg, CA.
She worked with clay from (1970-1989), transitioning to painted pop-rivet steel forms to oil painting on canvas. She studied art in California, New York, France, and Texas receiving an individual Artist Grant from the City of San Antonio, TX (1993).
She holds a BFA degree from New York State College of Ceramics at Alfred University and an MFA from the University of Texas at San Antonio: Teaching 3-D Design (1989-92); Teaching Drawing (1992-94) at the San Antonio College, San Antonio, TX.
She was the curator for The Figurative Point of View Exhibition (2004) at The Santa Rosa Junior College Art Gallery, Santa Rosa, CA, where she was an Art Instructor for 15 years (1996-2011). Youngquist's work is in numerous private collections, Represented in the SFMOMA Artist's Gallery (2005-2015), and currently represented in the Erickson Fine Art Gallery, Healdsburg, California.
Youngquist's current oil paintings on canvas are a departure from her earlier narrative-figurative work, exploring the connection and separation of her subjects and environments, using an intuitive, improvisational approach to suggest the energy, tension, mystery, interaction, and gesture in a suspended moment.
Youngquist's work is inspired by nature, current events, personal memory, and rhythms of music & dance to depict space, discover shape, form, line, and movement across the surface of the canvas.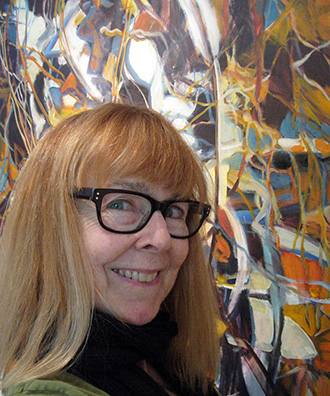 | Resumé | |
| --- | --- |
| Born | Hollywood, California |
| Year | Grants |
| --- | --- |
| 1992-1993 | City of San Antonio/Department of Cultural Affairs |
| Year | Education |
| --- | --- |
| 1990 | MFA The University of Texas at San Antonio, San Antonio, Texas |
| 1988 | BFA New York State College of Ceramics at Alfred; Alfred, New York |
| 1979-1980 | Ecole de Beaux Arts, Aix-en-Provence, France |
| 1978-1979 | Ceramics; Sun Valley Center for the Arts, Sun Valley, Idaho |
| 1972 | California College of Arts and Crafts, Oakland, CA |
| Year | Solo Exhibitions |
| --- | --- |
| 2020 | Dancing With Paint; Paintings by Kathleen Youngquist; Frank P. Doyle Library/2nd floor; Santa Rosa Junior College, Santa Rosa, CA |
| Year | Selected Group Exhibitions |
| --- | --- |
| 2022 | AbstractArtExhibition; Belvedere/Tiburon Library Art Gallery; Tiburon, CA |
| 2021 | Extraction, Art On The Edge Of The Abyss; Sebastopol Center For The Arts; Sebastopol, CA |
| 2021 | Inspiration Realized; Sun Valley Center Alumni Exhibition; Gail Severn Gallery; Ketchum Idaho; Curator: Jim Romberg |
| 2020 | The deYoung Open Exhibit; deYoung Museum; San Francisco, CA, Judges: Hung Liu, Mildred Howard, Enrique Chagoya |
| 2019 | Water's Edge, Landscape's for Today; Whatcom Museum, Lightcatcher Building; Bellingham, WA, Juror: Bruce Guenther |
| 2018 | No Mud, No Lotus; Orangeland Gallery, San Francisco, CA. |
| 2017 | AbstrAction; Fall National Juried Exhibition; Marin Museum of Contemporary Art, Novato, CA, Juror: Catherine Clark |
| 2016 | Non-ob; Blue Line Arts; Roseville, CA |
| 2016 | Fall Exhibition; Falkirk Galleries; San Rafael, CA |
| 2016 | Abstraction; Hallway Gallery; Sonoma West Medical Center; Sebastopol, CA |
| 2015 | Transitions; Marin Community Foundation; Novato, CA; Jurors: Patricia Watts, Satri Pencak |
| 2015 | Wetlands; Sebastopol Center For The Arts; Sebastopol, CA; Juror: Chester Arnold |
| 2015 | Reaction; Gallery Route One; Point Reyes Station, CA; Juror: John Seed |
| 2012-Present | Represented by Erickson Fine Art; Healdsburg, CA |
| 2012 | Serving Up Art; Sebastopol Library; 5 person show; Sebastopol, CA |
| 2012 | Left Coast Annual; Sanchez Art Center; Pacifica, CA; Juror: Michael Schwager |
| 2012 | Laughing Matters; 3 person show; Healdsburg Center for the Arts; Healdsburg, CA |
| 2012 | The Last Hurrah; Quicksilver Mine Co. Gallery; Forestville, CA |
| 2011 | Art At The Cheese Factory; Reflections on Water; Gallery Route One Project Space; Point Reyes, CA |
| 2011 | On Water; Paintings by Nineteen Bay Area Artists; Sausalito Bay Model; Curator: Claudia Chapline |
| 2011 | Boxed In; A Small Works Show; Quicksilver Mine Co.; Forestville, CA |
| 2010 | Private Eyes Artists' Visions; Marin MOCA; Novato, CA; Juror: Andrea Schwartz |
| 2010 | Figuring Out the Figure; Drawings; Santa Rosa Junior College, CA. Curator: Stephanie Sanchez |
| 2009 | Faculty Art Show, Santa Rosa Junior College, Santa Rosa, CA |
| 2008 | Small Works; Sonoma County Arts Council Gallery, Santa Rosa, CA, Juror: David Best |
| 2007 | Art International Fine Art Fair; Municipal Art Gallery-DCA Slide Registry; Pasadena, CA |
| 2007 | SVMA Biennial 2007; Sonoma Valley Museum of Art, Sonoma, CA Jurors: Philip Linhares, Richard Shaw, Leigh Marcopolos |
| 2007 | Expressions West 2007; Coos Art Museum; Coos Bay, OR: Honorable Mention Award |
| 2007 | New Space/ New Work; Santa Rosa Junior College, Santa Rosa, CA |
| 2007 | Human Figure Art Exhibition; Long Beach Arts; Long Beach, CA |
| 2005-2015 | SF Museum of Modern Art; Represented in Artists Gallery; San Francisco, CA |
| 2004 | Cross Pollination; The Museum of Contemporary Art; Santa Rosa, CA |
| 2004 | 12 painters/12 paintings; A street gallery, Santa Rosa,CA |
| 2004 | Summer Group Show; William O'Keeffe Gallery; Sebastopol, CA |
| 2003 | Filling Space; Drawings; A street gallery; Santa Rosa,CA |
| 2003 | Figures & Fantasies; Anne Bradford Gallery; Healdsburg, CA |
| 2002 | Artists Portraying Artists; Sonoma Museum of Visual Art; Santa Rosa, CA |
| 2002 | Through the Looking Glass; Quicksilver Mine Co.; Sebastopol, CA |
| 2001 | California Small Works 2001; Sonoma Museum of Visual Art; Santa Rosa, CA Juror: Kenneth Baker, Art Critic for San Francisco Chronicle |
| 2001 | The Frame Show; Mesh Gallery; Sebastopol, CA |
| 2000 | Faculty Art Show; Santa Rosa Junior College, Santa Rosa, CA |
| 2000 | Gallery Route One; Year 2000 Exhibition; Pt. Reyes Station, CA, Juror: Marian Parmenter |
| 1999 | New Work; Healdsburg Regional Library; Healdsburg, CA |
| 1998 | The Light Is Diverse in California; Center For Visual Art; Oakland, CA, Juror: Enrique Chagoya |
| 1998 | Third Rotation; Next Level Communications; Rohnert Park, CA |
| 1996 | California Small Works 1996; California Museum of Art; Santa Rosa, CA, Juror: Phil Linhares, Chief Curator, Oakland Museum, Oakland, CA |
| 1996 | Green Neon; Milagros Contemporary Art Gallery; 2 Person Show; San Antonio, Texas |
| 1995 | The Exquisite Corpse Project; Lithographs, UTSA Satellite Space, Blue Star Art Complex, San Antonio, TX |
| 1994 | Putting It On Paper; Contemporary Graphics by San Antonio Artists, McNay Art Museum, San Antonio, TX |
| 1994 | Hemlangtan; Scenic Design for Dance Performance: Carina Lawton and Dancers, Jump Start Performance Co., San Antonio, TX |
| 1992 | Works on Paper, Milagros Contemporary Art, San Antonio, TX |
| 1992 | Black and White and in Color; Haydee Victoria Suescum/Kathleen Youngquist; Visual Arts and Technology Center, San Antonio College, TX |
| 1992 | Baja Tejas; Texas Artists on Paper, Instituto Cultural Peruano Norteamericano, Lima, Peru; Curated by Kent Rush |
| 1992 | The Road Show, Fine Art Billboard Exhibition; San Antonio Art Institute, San Antonio, TX |
| 1991 | Chautauqua National Exhibition of American Art, Chautauqua, New York |
| 1990 | Paintings; Texas Hill Country Arts Foundation, Ingram, TX |
| 1985 | Figure Drawing; Phoenix Gallery, San Francisco, CA |
| 1985 | Portraits; Falkirk Gallery; San Rafael, CA, Jurors: Ruth Braunstein and Richard Shaw |
| 1985 | The Art of Clay and Glass; Fine Arts Gallery; College of Marin, CA, Juror: Kenneth Trapp |
| Teaching | |
| --- | --- |
| 1996-2011 | Art Instructor: Drawing and Composition; Figure Drawing; Watercolor; Drawing in Color; Three Dimensional Design; Santa Rosa Junior College, Santa Rosa, CA |